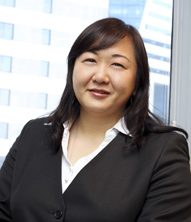 Professional Qualifications & Admission:
LLB (Hons), Queen Mary & Westfield College, University of London
Barrister, England & Wales
MBA (Business Law), Nayang Technology University
Profile
Susan was admitted to the Singapore bar in 1994 and began her career practising civil litigation. This laid a broad-base foundation in dealing with varied issues including trade & commerce, corporate secretarial, banking, employment, property, estates and trusts.
From there, she joined Arfat Selvam & Gunasingham (which became known as ASG Law Corporation) specialising in the area of asset and wealth management. She acted for fund managers, trustees and financial advisers and in the establishment and restructuring of local and offshore funds. She advised clients on applications under the Central Provident Fund Investment Scheme, Trustees Act and Income Tax Act and on licensing and regulatory compliance issues.
In 2003, Susan was appointed as Legal Counsel for Deutsche Asset Management covering the Asia (ex Japan, Australia) region. She has a deep understanding of the operating and business environment of fund managers, having worked closely with management and the product development, operations, marketing, investment and tax groups on the structuring of products for launch in various jurisdictions. She is familiar with handling compliance issues, implementation of global policies and procedures, staff training and dealing with customer complaints and audits. Structural issues such as joint ventures and business partnerships in the region were also within her coverage, in addition to the day-to-day legal documentation and oversight of legal and reputation risks.
Susan joined the Department in 2006, where she continues to assist clients on regulatory matters, the structuring of retail and private funds and other issues in this exciting area of asset and wealth management.