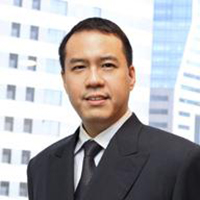 Professional Qualifications & Admission:
LLB (Hons), University of Buckingham, UK
Barrister, England & Wales (1993)
Admitted as Advocate & Solicitor of the Supreme Court of Singapore (1995)
Profile
Melvin covers the full spectrum of services offered by the Department, including advising on a broad range of private funds matters, assisting clients with the establishment of offshore (Cayman Islands and British Virgin Islands) fund structures, and onshore (Singapore) tax exempt fund structures for local and foreign investors. He also advises foreign fund managers on the Singapore licensing regime and tax incentives offered by the Singapore government. Melvin makes frequent representations on behalf of clients to the regulatory authorities with whom he has built up an excellent rapport.
Before joining the firm, Melvin was a specialist asset and wealth management lawyer with law firm Arfat Selvam & Gunasingham (which became known as ASG Law Corporation in 2001) where he advised fund managers, trustees and financial advisers on the establishment and offer of Singapore and offshore public retail funds, private and restricted fund offerings, regulatory compliance, licensing and exemptions, among others.
Between 1994 to 1999, Melvin was a lawyer with law firm Harry Elias Partnership where he started his legal career in commercial civil litigation. He went on to spearhead the firm's IT and telecommunications practice. He was appointed legal counsel to the Asia-Pacific Network Information Centre (APNIC) in Tokyo and the Asia-Pacific Internet Association (APIA) in Hong Kong and Singapore to advise on regulatory, policy and governance issues. Melvin represented both organisations as a delegate at the World Intellectual Property Organisation's (WIPO) 1997 Consultative Meetings on Trademarks and Internet Domain Names in Geneva, Switzerland.